Your Monthly Forecast
All the latest monthly forecasts, organized by sign.
Age of Aquarius
Susan Miller's astrological predictions for a new century.
Current Trends
Find out the planetary trends that might be influencing you today.
---
Virgo (August 23 - September 22)
Your October Horoscope by Susan Miller
As you begin October you will be anxious to get going, because assertive Mars is in Virgo, giving you lots of attractive energy, courage, and drive. Make your plans, dear Virgo, but check them twice. Mercury, your ruling planet, is still retrograde, but only until October 9.

Until Mercury goes direct, it would not the time to start actions at full throttle. It is not the time, for example, to hire help or to take a new job for yourself. That being said, good jobs are hard to find. If you get an offer, try to give your final acceptance after October 9. If you can't wait, take the job, fully aware that the job description may change or the person you think you will be reporting to may suddenly shift to different person, and it may be someone you aren't as enthusiastic about. If you have been out of work for a while, it's always easier to get a job after you already have one, and although that's not fair, it is the way of the world. Take the job, and if...
To view a forecast, select a sign from the menu below and click on Go.
---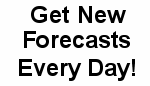 Click here to get your daily forecast
direct to your email or PC.


Fluffy Down Bedding,
Comforters and Pillows
Hosted by: