Your Monthly Forecast
All the latest monthly forecasts, organized by sign.
Age of Aquarius
Susan Miller's astrological predictions for a new century.
Current Trends
Find out the planetary trends that might be influencing you today.
---
Virgo (August 23 - September 22)
Your May Horoscope by Susan Miller
Life is about to get exciting, dear Virgo! Your career is about to show amazing gains, with opportunities about to drop out of the sky in May and June. It won't be all work and no play for you either because opportunities to travel will be plentiful, as well as lots of social time with friends. Dear Virgo, it looks like you have the ideal month to enjoy to the fullest.

The month starts out with a full moon in Scorpio on May 3, at 13 degrees. You may be traveling as the month takes off, perhaps to visit your sister or brother, or to having a divine weekend to a private location with your sweetheart or spouse. (Scorpio, the sign of the full moon, is known to be a sign that likes its privacy!) This full moon will be beautifully angled to Neptune, so you would be inspired by the trip. You need not go far to have fun - with Neptune so nicely angled, choose a resort nearby that offers a view of the turquoise ocean or to...
To view a forecast, select a sign from the menu below and click on Go.
---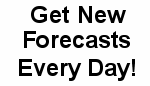 Click here to get your daily forecast
direct to your email or PC.


Fluffy Down Bedding,
Comforters and Pillows
Hosted by: